13th edition: 22-24 june 2018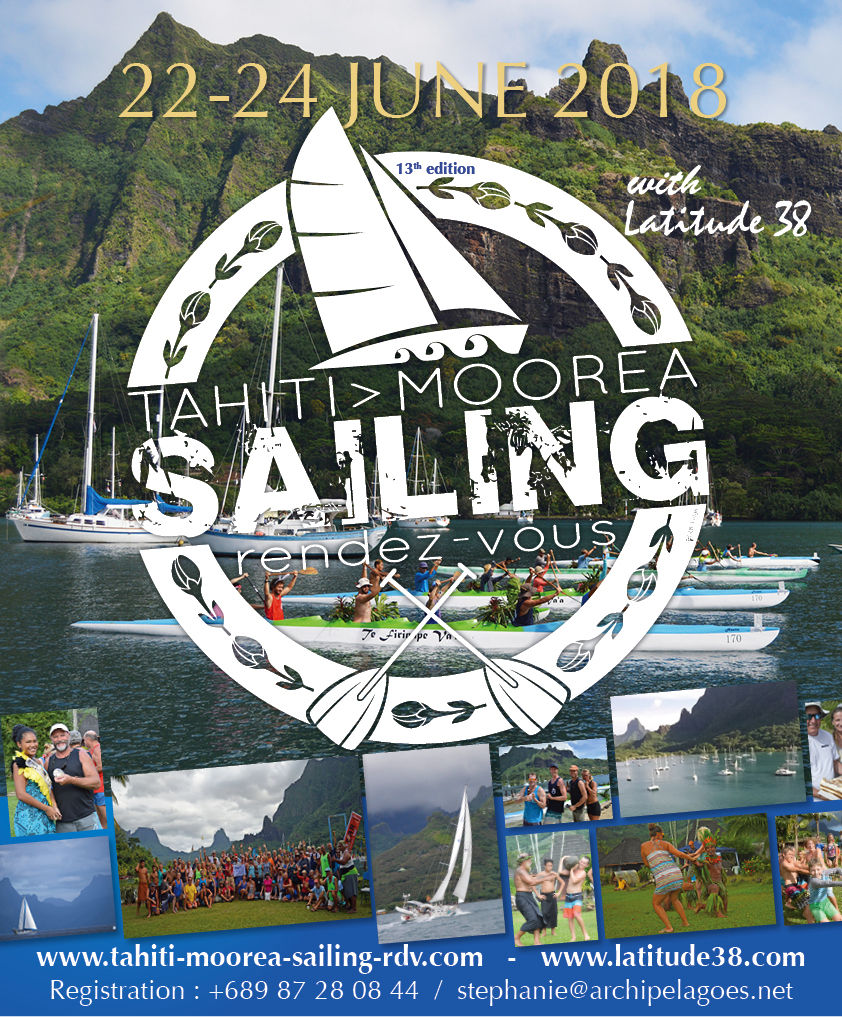 ---
Download the Tahiti>Moorea Sailing Rendez-Vous brochure in english (PDF – 719 KB)
The "Rendez-vous" concept.
The event Tahiti-Moorea Sailing RDV is organized by Archipelagoes and Latitude 38, together with their major partners: Tahiti Tourism, Cities of Papeete and Moorea-Maiao and several private partners (Air Tahiti Nui, Port autonome de Papeete, Pacific Sud Yacht, Sin Tung Hin Marine, Tahiti Crew, Eco Car Tahiti, Les 3 Brasseurs and Aremiti Ferry). Since 2011, nautical industry partners from New Zealand, Fiji and Australia join us: Whangarei Marine Group (www.whangareimarine.co.nz), Bay of Islands Marina (www.bayofislandsmarina.co.nz), Port Whangarei Marine Center (www.portwhangarei.com), Vuda Marina Fidji (www.vudamarina.com.fj/).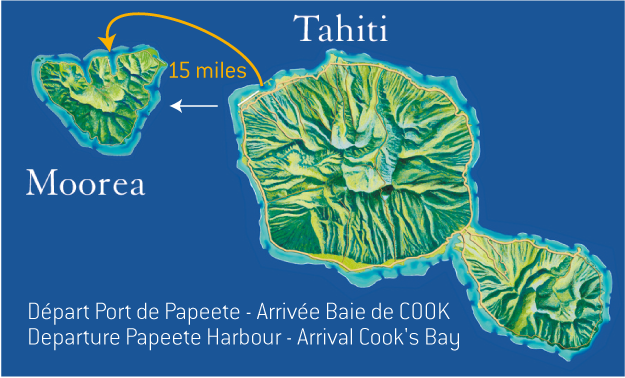 The Tahiti Moorea Sailing RDV is an annual three-day event that aims to give a warm Polynesian welcome to cruising sailors while celebrating their successful ocean crossing.
It gives the opportunity to our guests to discover, through a friendly rally, the charm of our islands, their warm-hearted inhabitants and the richness of the Polynesian culture.
Last Year Participants:

Beach Flea (USA)
Me Too (USA)
Acapella (Netherlands)
Jonas (Netherlands)
Slow Flight (USA)
Nautilee (Australia)
My Dream (USA)
Terrapin (USA)
Alcyone (USA)
Wiz (USA)
Illimité (USA)
Black Watch (USA)

Just Passing Wind (USA)
Mysticeti (USA)
Solace (NZ)
Wildline (USA)
Muse III (Canada)
Anna Caroline (Netherlands)
She San (Swiss)
Sula (NZ)
Findus (Germany)
Kapai (NZ)
Ballena (USA)

Wildberry (British)
Kandiba  (Turkey)
Jandamarra (Australia)
Spill the Wine (USA)
Serengeti (USA)
All Day (Russia)
Sky Blue Eyes (USA)
Blessing (USA)
SweetPea (USA)
Robusta (Swiss)
Monark (Canada)
Program
---
Friday June 22th / Tahiti
2:00 – 5:00 pm : At the Tourism office – Papeete
Boats can be berthed at the yacht quay downtown Papeete, at your own expense.
Berthing in the new downtown Marina de Papeete during the Tahiti>Moorea Sailing Rendez-Vous

In order to ease your entrance end departure formalities please fill in the following documents before docking and send them back to the harver master:
Meet with our team at the committee booth and receive your welcome kit (information folder, briefing documents, T-shirts and partners gifts).
Discover parts of the Polynesian culture and more specificaly the Vanilla of Tahiti through several booths, handcraft and exhibits.
Meet our New Zealand, Fiji and Australia partners: Whangarei Marine Group (www.whangareimarine.co.nz), Bay of Islands Marina (www.bayofislandsmarina.co.nz), Port Whangarei Marine Center (portwhangarei.com), Vuda Marina Fidji (www.vudamarina.com.fj/).
3:30 pm : Skippers briefing

Briefing on sailing conditions in the Leewards islands

5:00 – 6:30 pm : Welcome cocktail at Tourism Office

Papeete

Polynesian skippers blessing ceremony.
Speech and briefing for rally participants.
Cocktail reception with handmade flower leis for all and a dance performance.
After the cocktail the participants are free to dinner at the roulottes, at our partner restaurant Les 3 Brasseurs.
---
Saturday June 23th / Tahiti to Moorea
10 am : Sailing boats leave Papeete Harbor

Arue or Punaauia marinas, motoring to the pass of Papeete
Fleet gathers outside the main entrance to Papeete Harbor for the start of a (no pressure) sailing rally to Moorea's Cook's Bay.
Start of the rally outside the coral reef of Papeete's pass and in between two speed-boats of the organizing committee.
Arrival line in the pass of Cook's bay. When you arrive, anchor inside the bay in front of the club Bali Hai, in the PGEM moorings area.

5:00 pm : Dinghy to the Bali Hai Hotel for a cocktail

receive a fresh flower lei and mingle with fleet members.
Register your team for the canoe race on Sunday.
At 6 pm, presentation shows of our partners from New Zealand, Australia and Fiji.
At 7:00, polynesian dance and music party.
Dancing after the show if you wish.
A specially-priced (2500xpf) dinner will also be offered by the hotel.
The canoe races are organized by the Association Te Firi Nape Maharepa. Its purpose is the practice of va'a but also other sports such as sailing canoe, paddle, kayaking.
---
Sunday June 24th / Moorea
Fresh baguette delivered to each boat early in the morning for a good breakfast before a full day of festivities on the beach and in the gardens at the Club Bali Hai.
10:00 am – 3:00 pm : A fun day of traditional Polynesian sports

Local experts will demonstrate and cruisers can test their skills.
The highlight of the day will be the six-person outrigger canoe races, where cruisers join local paddlers in a series of races.
Traditional games, initiation to dance, weaving and Pareos confection, information stands and handcraft demonstration from Moorea.

Noon : Optional traditional "Maa" luncheon

(Cost is 3500 XPF with prior registration only)
Including many classic Polynesian dishes.

2:00 pm : Learn to dance Tahitian style to live music

3:00 pm : Awards ceremony and free cocktail
COURSE BRIEFING

JUNE 23th

10h Departure from the quai, join the departure line outside the pass of Papeete motoring.

Sailing rallye departure will be given by the Yacht Club of Tahiti near the committee boat outside the pass of Papeete.

VHF Chanel 8

Category1 (<42'): departure at 10:30 am.
Category 2 (>42'): departure at 10:40 am

Upon arrival at Paopao/Cook's Bay, line up with land beacons.
Permanent priority must be given to shuttle boats operating in the Tahiti-Moorea channel.

The 15 NM crossing Tahiti to Moorea will be conducted as a rally and not as a race.

If weather conditions cannot allow an arrival before 3:00 pm, the organizing committee can shorten the race by marking a finishing line in deep sea.
A word from our South Pacific partners :
Vuda Marina Fiji
Fiji is an affordable country full of culture, traditions and amazing scenery. The Fijian people are known as the friendliest people in the world for very good reason. Their welcoming nature and beautiful smile is infectious and you will soon realise that the 18 months your vessel is allowed to stay in the country is simply not long enough. Fiji is very safe, everyone speaks English and due to its geographic location in the Pacific, is very easy to get to by air which makes a quick trip home to visit loved ones, relatively easy to do while you keep your yacht in a safe harbour such as Vuda Marina.
Vuda Marina is conveniently located at Vuda Point, which is situated on the western end of Viti Levu between Nadi International Airport and Lautoka city. The marina is a great place to be based year round. Its crossroads location and close proximity to key areas on the mainland and offshore islands is unique in Fiji. The marina also offers a unique convenience for those wishing to explore the Mamanuca and Yasawa islands (Fijis premiere resort locations and beautiful chain of islands ) situated just off-shore and within eye view.
With World-class repair contractors, Vuda Marina is an affordable destination for all repairs from simple reupholstering jobs to extensive all-over refurbishments. Our ever popular 'Cyclone Pits' are the perfect option for those wishing to leave their vessel for an extended period in the Tropics instead of making the arduous journey South to New Zealand or West to Australia.
Phone: +679.666.8214 Mobile : +679.9929 935 Email:info@vudamarina.com.fj Web: www.vudamarina.com.fj
Port Whangarei Marine Centre
Opening in October 2015 this is New Zealand's newest boatyard but is operated by one of it's most experienced marine companies, Oceania Marine Group. Located in deep water in Port Whangarei the marine centre offers all-tide access to extensive hardstand and refit/paint sheds. Haulout is by way of a 100 tonnes travelift capable of handling up to 10 metre beam.
Facilities will include a large sail sealed hardstand area, excellent showers, kitchen and rec. areas, spar, sails and rigging service centre, we offer full refit, repair and maintenance service including top quality painting and abrasive blasting.
Cruising yachts are welcome, we can handle a wide variety of vessels and we will be of special interest to catamarans because of our extra wide travelift with it's 10m inside width.
24Hr Mobile: +64 27 351 7066 Email: info@portwhangarei.com Web: www.portwhangarei.com
Whangarei Marine group
Whangarei Marine Promotions have been a partner for the Papeete to Moorea Sailing Rendez – Vous for many years. Our representatives are privileged to participate in this event and enjoy it very much. Most sailors we talk with have already heard about Whangarei in New Zealand as a destination which make it easy for us with just having to provide further information and answering questions. Whangarei does have a user friendly NZ Customs clearance at Marsden Cove Marina in the Whangarei Harbour.
Bay of Islands Marina – Port Opua
Bay of Islands Marina – Port Opua enjoys a close relationship with Archipelagos and Latitude 38 and is always keen to support the Rendez-vous Regatta event at Tahiti-Moore.
Many of you will be considering coming to New Zealand following your fantastic stay in French Polynesia and representatives of the Port will be around to encourage you to take your adventures to New Zealand. They will be available to answer questions and help with logistics including arranging any specific services.
Bay of Islands Marina – Port Opua is the main Port of Entry in to New Zealand. Over 430 cruising yachts clear Customs there each year. The Port has a full range of services for yachters including Opua Marina which is shortly to be expanded to cope with the growth in demand. It is a warm friendly place set in the iconic Bay of Islands – the most popular recreational boating paradise in New Zealand.
We looking forward to seeing you!
www.bayofislandsmarina.co.nz
Latitude 38
Since the publication of our first issue in 1977, Latitude 38 has championed a way of life with a style unique among sailing magazines. Often imitated but never matched, we've gone from that funky regional publication to a laid-back California standard to an "alternative" authority for sailors across the nation and around the world.
Style, readability, wide-ranging demographics, long shelf life: those are just a few of the reasons Latitude 38 offers advertisers the best value in the market today. Another important one is reasonable rates. Like everybody else who discovers the magazine, you'll be in for a pleasant surprise.
Tél : (415) 383-8200
---
A word from our local

partner

s:
Moorea-Maiao
The Municipality of Moorea-Maiao is a city in French Polynesia composed by two islands: Moorea and Maiao. For all the Moorea Maiao's news , practical information, downloadable documents, we are at your disposition to answers to your questions.
Contacs : 40 55 04 55 ou le 40 55 04 56
Tahiti Tourisme
Tahiti Tourisme is an organims in charge of the Tahiti And Its Islands's marketing which oversees all marketing and advertising activities, public relations, promotion, events and travel advice made on our international markets. It's first mission is to bring tourists to Tahiti And Its Islands, this economic interest group is composed of a local team working with 12 performances to ensure the presence of 18 foreign markets.
Tél : 40 50 40 30
Air Tahiti Nui
We offer daily non-stop service to Tahiti from Paris and Los Angeles as well as convenient flights to Auckland and Tokyo. With our code share partners SNCF rail in France, American Airlines in the USA and Qantas in Australia, we link to over 39 other cities including Sydney, New York and Marseilles.
Our fresh and dynamic crew make our passengers feel like they are already in Tahiti as soon as they step on board. The smile and generosity of our teams, the elegant and refined design of the cabins, the sound of ukulele, and the fragrance of the Tiare flower that is offered with our traditional «Maeva», the Tahitian word for welcome, are some of the tokens of friendliness that we extend. They demonstrate the human and uniquely Tahitian part of our character.
Air Tahiti Nui has been selected as one of the "World's Best" international airlines by readers of Travel +Leisure in 2011, 2010 and 2008 and as Best Airline in the South Pacific, 2011 and 2012 by readers of Global Traveler.
City of Papeete
We are here to facilitate community life in the city and provide the public services that our citizens deserve.
We were elected for Papeete commits to sustainable and mastered development and we hope to create favorable life conditions that will leads us to progress, prosperity and good living conditions for our children to grow up in security and social harmony.

Téléphone : (689) 415 700 Fax : (689) 420 411
Port Authority of Papeete
The Port Authority of Papeete was created on January 13th 1962, the year when the "Centre d'Expérimentation du Pacifique" settled in the island of Moruroa, located in the Tuamotu Archipelago of French Polynesia.
The Port of Papeete remains submitted to rules of public accounting and to procedures proper to public establishments. Nevertheless, new operating rules of the entity enable it to model its management methods on those of the private sector, and then to beneficiate from a bigger margin of management and a high ability to react.
The Port Authority of Papeete enjoys a full financial autonomy, managing its own resources and expenses.
Serving customers, investing, managing the domain and protecting installations: these are duties of the Port, an essential player of the economic development in French Polynesia. Thus, the Port Authority of Papeete undertakes actions and investments to complete successfully these duties.
Tahiti Crew
Tahiti Crew is an official partner of the Latitude 38 Pacific Puddle Jump Rally. We began operating as a Crew Placement Agency in 2012 based in Tahiti, French Polynesia. We specialize in assisting Super Yachts with the sourcing and placement of crews whether on a daily, a seasonal or a permanent basis. In order to ensure that we have a wide network of available candidates we work closely with similar agencies in both Australia and New Zealand.
We at Tahiti Crew have since opened our doors to other sailing vessels cruising French Polynesia and offer assistance with everything from arrival and departure formalities, berthing and ship handling to provisioning, land based accommodation and bookings for various excursions.
mail: : tahiticrew@mail.com Yacht registration: yachts@tahiticrew.com
Facebook : https://www.facebook.com/tahiticrewagency
Aremiti
Created in 1991, the SARL Aremiti, « the Wings of the ocean », is a family owned company, based in Papeete, Tahiti.
Our mission is the transportation of passengers, goods and vehicles between the island of Tahiti and Moorea.
Since the beginning of our operations, high quality service, efficient and comfortable ships are the motivations of the team.
Throughout the years, our fleet has been renewed to offer faster, yet more comfortable crossings for our customers.
PPT (+689) 40 50 57 91
Pasific Sud Yacht
Pacific Sud Yacht is a concessionaire of the Bénéteau group,the world leader of the yachting. They propose a wide selection of models : Bénéteau Sailing yachts, Lagoon catamarans, motor boats Winns Oven, Glastron and Scarab.
They will be present on June 23rd to meet halfway the yachtmen interested by a sale or a purchase from new boat or occasion.
http://www.pacificsudyacht.com/ Email:contact@pacificsudyacht.com
Tel. : + (689) 89 57 58 56
Sin Tung Hing
Based at Tahiti, Sin Tung Hing Marine suggesting solutions of quality that cover the whole of your needs to build, equip and maintain your boat. Sin Tung Hing Marine SA is today the oldest International Distributor of the Mercury engines in the world (since 1955). She belongs to the companies gathered in counter of importation which it created and which thrived with the entry of Polynesia in the modern era since 1960. With three stores in Tahiti (PAPEETE – Marina Taina – Taravao), representatives in the islands, a wallet of key brands, and an Engineering service gathering seven people full-time, Sin Tung Hing Marine works each day to become the Center of the Sea.
They will be present on June 23rd and will make their contribution with a stand of initiation to the splices. They will also give of the batches in partnership with manufacturing of Liros . In addition, they will offer 10 % discount on the entire store to the Tahiti Moorea Sailing Rendezvous's participants.
http://www.sthmarine.com/ Email:magasin.marine@sintunghing.pf
Tel : (689) 40.54.94.52
Eco Car Tahiti
Rent a car or Rent a scooter in Tahiti
Full insurance included
Unlimited mileage
Free pick-up of vehicle and customer anywhere on Tahiti *
Special rates available from day 1 of rental
Courtesy Infant/child seat
7 days a week & 24 hours a day *
Guaranteed and immediate online booking
Tahiti Yacht Club
The Tahiti Yacht Club has existed since 1953. It's an association of about 250 members witch houses 200 boats. Its vocation is to promote the practice of sailing in French Polynesia. To this end, the YCT organizes courses and regattas in Optimists, Hobies Cat and cruisers.
Situated on the northern coast of Tahiti in Arue, the YCT has waters particularly favorable to sailing with a lagoon and a bay (Matavai Bay) sheltered from the swell but benefiting from the regular winds.
Visitors are welcomed for a few days on the moorings and pontoons that are available.
The YCT also hosts on its site other independent independent structures: a club restaurant, the Arue Sailing School, the Scubatek diving center, a gas station, the Coconut Station snack bar.
Multihull Solutions
Multihull Solutions is Asia Pacific's leading new and pre-owned cruising multihull specialist.  Whether you want to sell your multihull, buy a new or pre-owned multihull or service or maintain your boat, Multihull Solutions has experienced teams here in Tahiti, as well as Australia, New Zealand, New Caledonia and Asia, ready to help you.
Multihull Solutions deal exclusively in multihulls and represent leading brands: Fountaine Pajot, Neel trimarans, Corsair Marine.
As a supporter of all types of sailing, racing and cruising in the Pacific, Multihull Solutions is pleased to sponsor the Tahiti Moorea Sailing RDV and is commitment to developing a strong local service centre in Tahiti.
David@multihullsolutions.com.au
Manutea Tahiti
The Jus de Fruits de Moorea factory was established in 1981 in partnership with the island's pineapple growers, as at that time, the fresh-fruit market was not able to absorb the total production of pineapple. In November 1981 under the Rotui brand, the factory produces its first pineapple pure juice, which encounters great success. Thus, the brand Rotui was established as a quality brand.
In 1984, the factory diversified with the creation of Manutea Tahiti SA, a society dealing with tropical alcohols, liquors, eaux-de-vie and  fruits wines. It manufactures also jams, vanilla.
Restaurant and Yacht Club
Moorea Beach Café is a café and restaurant overlooking one of Moorea's beautiful lagoons, creating the idyllic setting for a New Cuisine in a musical ambience.
Conveniently located at the center of Maherepa, Moorea, We are open everyday from 11:30 am to 10 pm. Our parking lot is right accross the street as you can also come with your boat and park right in front at the lagoon.
See you soon,
Bruno Jamais
Les 3 Brasseurs
Les 3 Brasseurs Tahiti opened their doors on June 13 1998. It is the only Polynesian microbrewery, producing locally craft beer unpasteurized: the authentic taste! live music from Thursday to Saturday night. Restaurant, bar and beer brewed on site.